July 23, 2019
Aeolus introduces 315/60R22.5 for NEO Fuel S+ and NEO Allroads D+
Aeolus has added size 315/60R22.5 to the NEO Fuel S+ series (steering axle tyre for international transport) and the NEO Allroads D+ series (universal drive axle tyre). It has thus further enhanced its range of tyres with excellent performance and the lowest price per kilometre.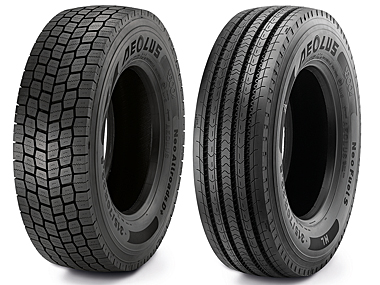 NEO Allroads D+ for perfect handling
Jeroen Vos, product manager, explains the technology behind the NEO Allroads D+: "a wide and extra-wide pattern helps to ensure a long life-span. The sophisticated pattern structure features 3D sipes and offers drivers perfect handling on dry and wet surfaces. The special groove design always warrantys high traction and, together with an extra anti-wear layer in the tread compound, ensures a long life-span."
NEO Fuel S+ for long distances
He has the following to say about the Aeolus NEO Fuel S+: "the tyres have been specially developed for long distances. The special tread compound ensures lower fuel consumption. In addition, the tyre has a pattern that features inter-connected blocks and 4 horizontal grooves for effective water and heat discharge, and a special shoulder design for uniform wear and tear." A complete overview of all sizes available in the NEO series can be found at aeolus-tyres.com.
A 100% warranty for a period of 2 years.
People who now buy Aeolus tyres will receive a 2-year 100% warranty. Aeolus is the only brand to offer such a warranty in this segment. This means you will be fully reimbursed - irrespective of the cause - if the tyre must be replaced within 2 years. This warranty, together with the casing warranty and 24/7 roadside assistance, proves the rock solid price/quality ratio of Aeolus tyres. Since its introduction in Europe in 2004, Aeolus has developed into the leading alternative for renowned A brands.

You can find Aeolus Tyres everywhere. Even in your neighborhood!