January 5, 2021
Aeolus truck tyres meet demanding DE-minimis funding guidelines 2021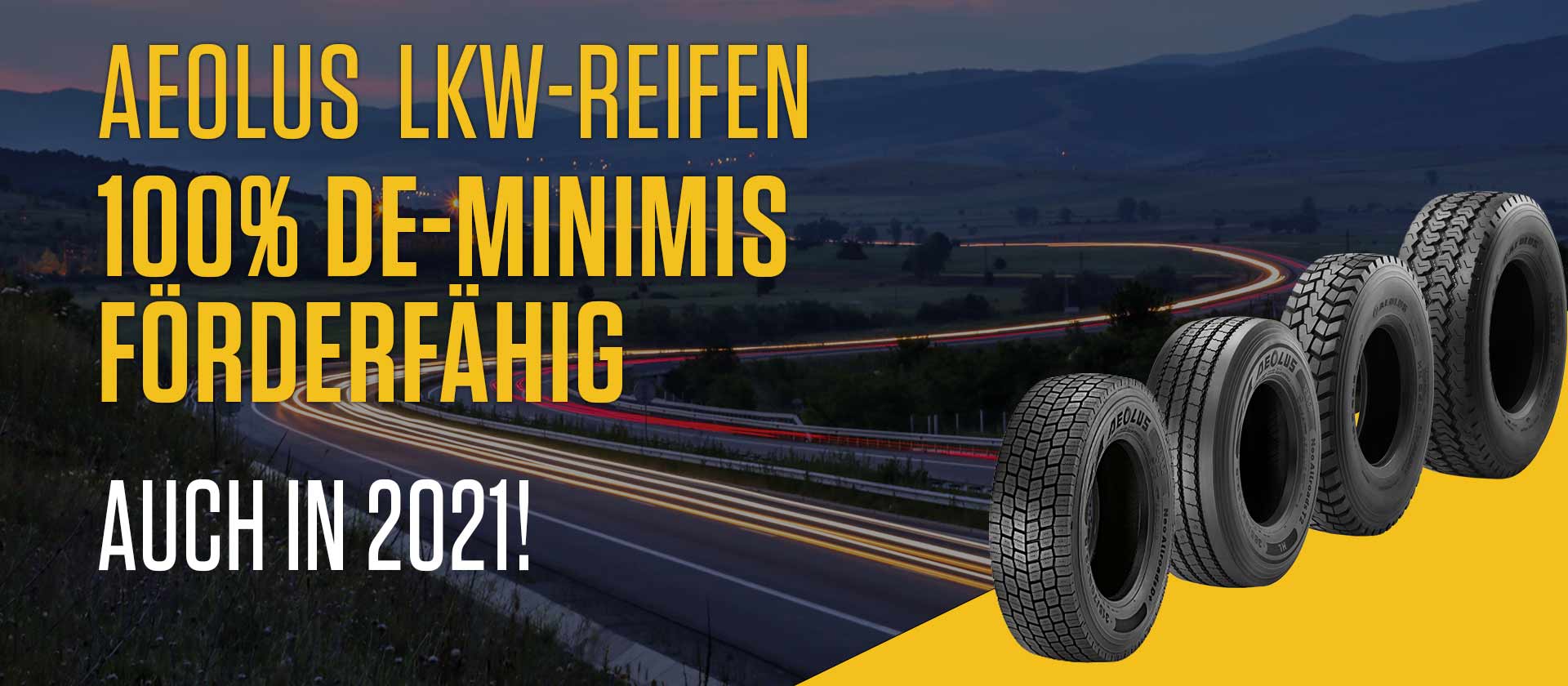 Just in time for the start of the new de minimis funding season 2021, all major trailer and low loader tyres of the Aeolus NEO Allroads T2 series are 100% eligible for funding according to DE-minimis BAG 1.3. Aeolus tyres therefore remain particularly attractive in 2021. This is very welcome to the consumer customer in the transport industry when deciding to buy tyres in 2021. Aeolus and the tyre trade are looking forward to the additional opportunities this will create.
Successful sharing and deployment
"We look forward to another successful sharing and deployment of the many best eligible Aeolus truck tyres," cites Jeroen Vos, Aeolus Product Manager. "The scheme was already introduced on 1 January 2018. Therefore, they still fall under point BAG 1.3 for a 100% subsidy (with crediting 80% of the purchase price) under the DE-minimis scheme. Thus, Aeolus commercial vehicle tyres enjoy continued attractiveness in 2021."
Maximum remuneration with 3PMFS standard
Jeroen Vos: " Aeolus has the required 3PMSF (snowflake) symbol almost universally for all axle positions - front axle, trailer and low loader tyres. The tyres are available immediately from the European warehouses, as are further NEO Allroads S+ as well as Allroads D+. The NEO Fuel D and Aeolus ADC53, which have already proven themselves in practice, are available as ideal tyres for drive axles. These tread designs are also eligible for up to 60% subsidy (80% of 60% of the purchase price) under section BAG 1.9 of the DE-minimis subsidy guideline. We trust that this will sustainably boost the strongest growth ever achieved with Aeolus truck tyres in Europe."
De-Minimis 2021 Zeitraum
Antragsfrist für die Förderung in 2021 beginnt am 07.01.2021 und endet am 30.09.2021.
Auch gefördert werden 80% der Kosten für Montage und Montagehilfsmittel.

You can find Aeolus Tyres everywhere. Even in your neighborhood!